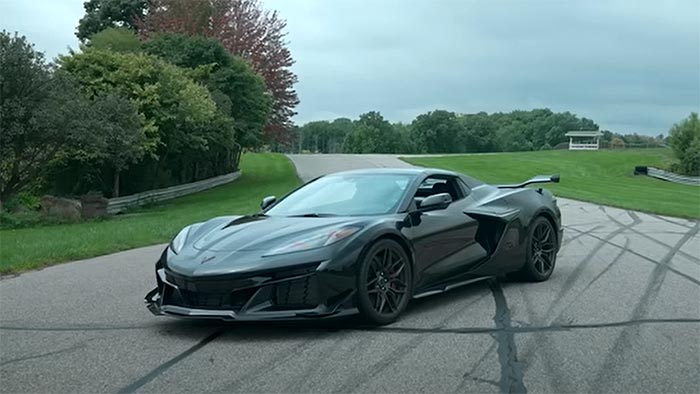 Add Car and Driver to the growing list of publications gushing over the capabilities of the new 2023 Corvette Z06.

Carlos Lago takes the hardtop convertible Z06 for a few spins around Grattan Raceway in a new 11-minute YouTube video and quickly comes away calling Tadge Juechter and crew's latest creation "a truly special machine" and the "Best.Vette.Ever."

"The thing that I've always enjoyed about the regular C8 Corvette," Lago says, "is how easy it was to drive quickly. That car through a combination of its mid-engine setup, its steering accuracy, its electronic sophistication – that was a car that felt very easy to drive at speed. The same is true with this – it's just the speed is so much higher. I haven't even mentioned this is the convertible – it's not the fast one."

That honor goes to the Z07-equipped Z06 with available carbon fiber wheels and Michelin Pilot Cup 2R tires "that will go even faster and have more stick," Lago explains. "I can't fathom that right now based on what this thing does – which is sound like a banshee and just grip. Every time I'm on the straight, I'm just intoxicated by that sound."

Indeed, during the development phase, Chevy bought a Ferrari 458 to benchmark the Z06 against, then sold it for a more powerful and faster Ferrari 480.

"Problem was that according to the team the turbocharged Ferrari 488 was missing that special something only a naturally aspirated engine could deliver," Lago says, "so they sold it and bought another 458."

The 458 is the last naturally aspirated V8 Ferrari, "and its influence over the Z06 is obvious," Lago says.

The driving experience in the new Z06 is "intense," and that's not surprising considering it's the most powerful naturally aspirated V8 in history at 670 horsepower that revs to 8600 RPM.

"I had little doubt the Z06 was going to be an absolute monster," Lago says, "but the magnitude of its power is something I'm still putting together. The sound of the engine is one thing, the nature of the power, man, is one thing. It is ferocious – it's like no other V8 I've heard from a domestic car manufacturer before. It's like something you'd get out of Ferrari, and the power band is just delightful as you get into the higher parts of the rev range. It just feeds and feeds and feeds and keeps going and keeps going, so that's certainly part of the excitement."

Adding to the experience, he says, are fundamental C8 features like advanced stability control system, electronically controlled differential, and magnetic ride, among others.

"This [Z06] does it all, and that creates a package that's just staggering," Lago says. "You have tons of confidence to get right to the place where you stop feeling comfortable driving quickly, and the car can certainly go beyond that, but as the driver I arrive to the point where I'm like, yeah, I'm good, I'm excited, this is … this is nuts."

Lago says "it's funny to imagine the Chevy engineers and test drivers sitting there looking at their Ferrari 458" during development "and thinking, you know, we could do this and for less!"

Now Lago says Car and Driver "can't wait to see" to see what the Z06 can do at Lightning Lap this year.

Source:

Car and Driver


Related:

Matt Farah Takes the C8 Z06 on a 'Three Lap Review' as Part of R&Ts PCOTY

Consumer Reports Gives the 2023 Corvette Stingray a Recommended Rating

Car and Driver Tests the Base 2023 Corvette Z06 Convertible and Calls it the Best Corvette Ever