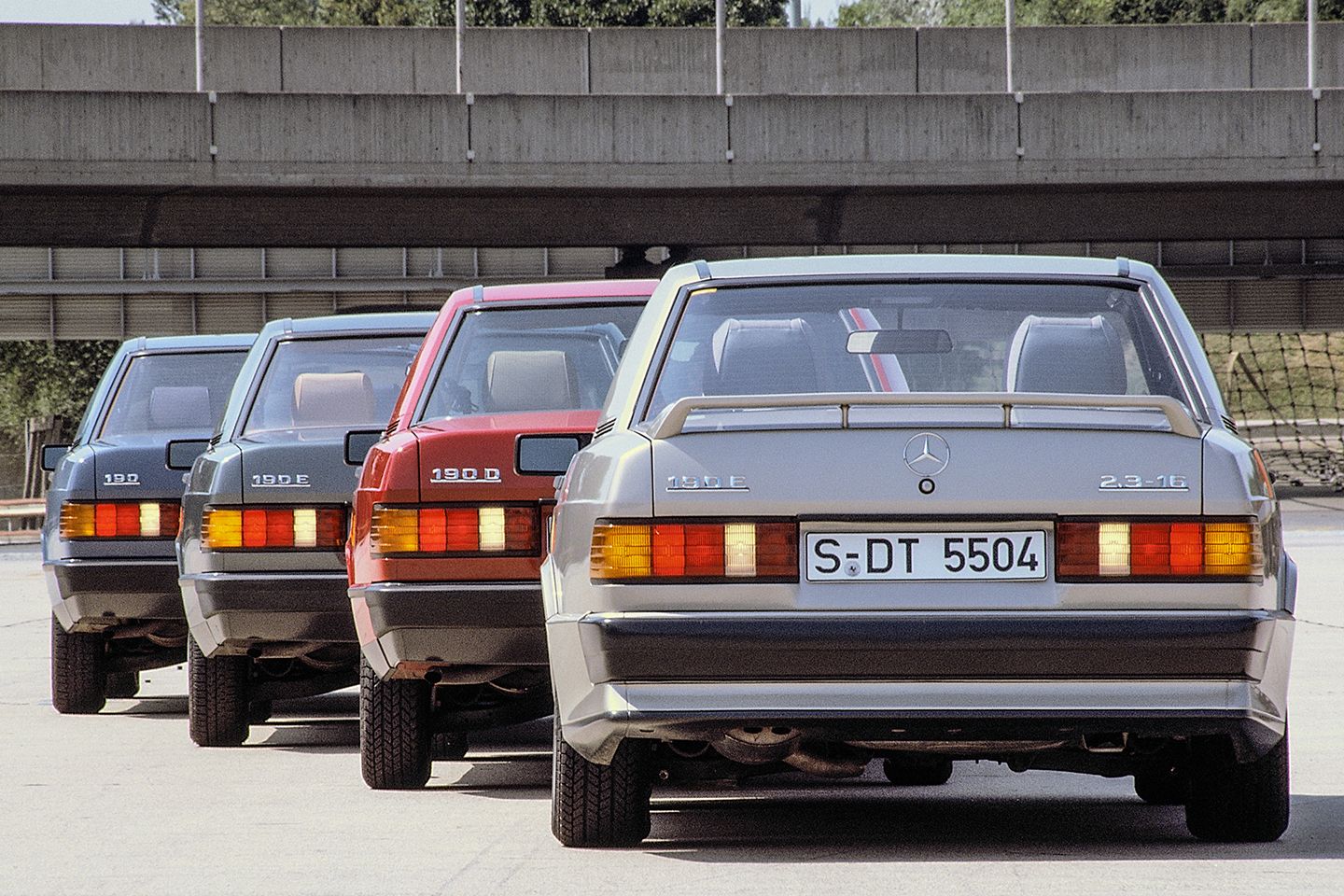 It's a natural reaction to be almost dumbfounded when another car reaches a significant anniversary. Those many years can't have passed since then, you'll muse, and wonder where the time has gone. But never does the adage seem truer than with the Mercedes-Benz 190, or W201 to give it its internal designation. Because that was launched in December 1982, 40 years ago next week, and it seems almost inconceivable that a car so modern, so stylish and still seen so often can be a decade off half a century. It can't be possible.
Of course, that was exactly the point of the baby Benz. Born out of mid-70s fuel crisis austerity, the W201 was to boast everything that was so wonderful about the bigger Mercs, only in a smaller package. There was to be no corners cut and no compromises entertained in the pursuit of a brilliant small saloon. Professor Hans Scherenberg (great professor name), Mercedes' Board Member for Development at the time, said as long ago as 1974: "This must be a typical Mercedes-Benz. So we can't compromise too much in terms of driving culture, safety and the corresponding Mercedes-Benz characteristics." Which is part of the reason why there are cars out there with more than 200,000 miles for almost £20k. But we'll get to classifieds at the end.
Development really got going in 1978. One of the factories used for the W201, built out of the old Borgward facility in Bremen, was dedicated entirely to the one model line. Back then the Nordwerk Im Holter Feld development represented the largest single investment Daimler Benz AG had made ever, at 1.4 billion Deutsche Marks. That's how seriously the 190 project was taken. More than a million units were made there, and it continues to build C-Classes today.
Furthermore, while PHey types will understandably remember the 190E as a DTM racer and M3 rival, it should be noted how big a deal the W201 was as a regular saloon. It had a five-link rear axle, for instance, when an E30 3 Series was still using semi trailing arms. It was the most aerodynamic of all the Mercedes saloons at launch, with a drag co-efficient of 0.34. An obsession with creating a lighter, smaller, more efficient Benz meant a kerbweight from just 1,080kg, too, hundreds less than any other four-door Mercedes. The same benefits of low mass that are harped on about today were undoubtedly also relevant in the early 1980s. Plus, of course, the 190 was famously styled by Bruno Sacco, car design extraordinaire, meaning even the base models cut a dash. "Even a Baby-Benz has to look like a Mercedes-Benz, but not like a scaled-down S-Class." That was the maxim of Peter Pfeiffer, said to have been a big influence on Sacco's finished car, and we're certainly not going to disagree. The W201 still looks superb.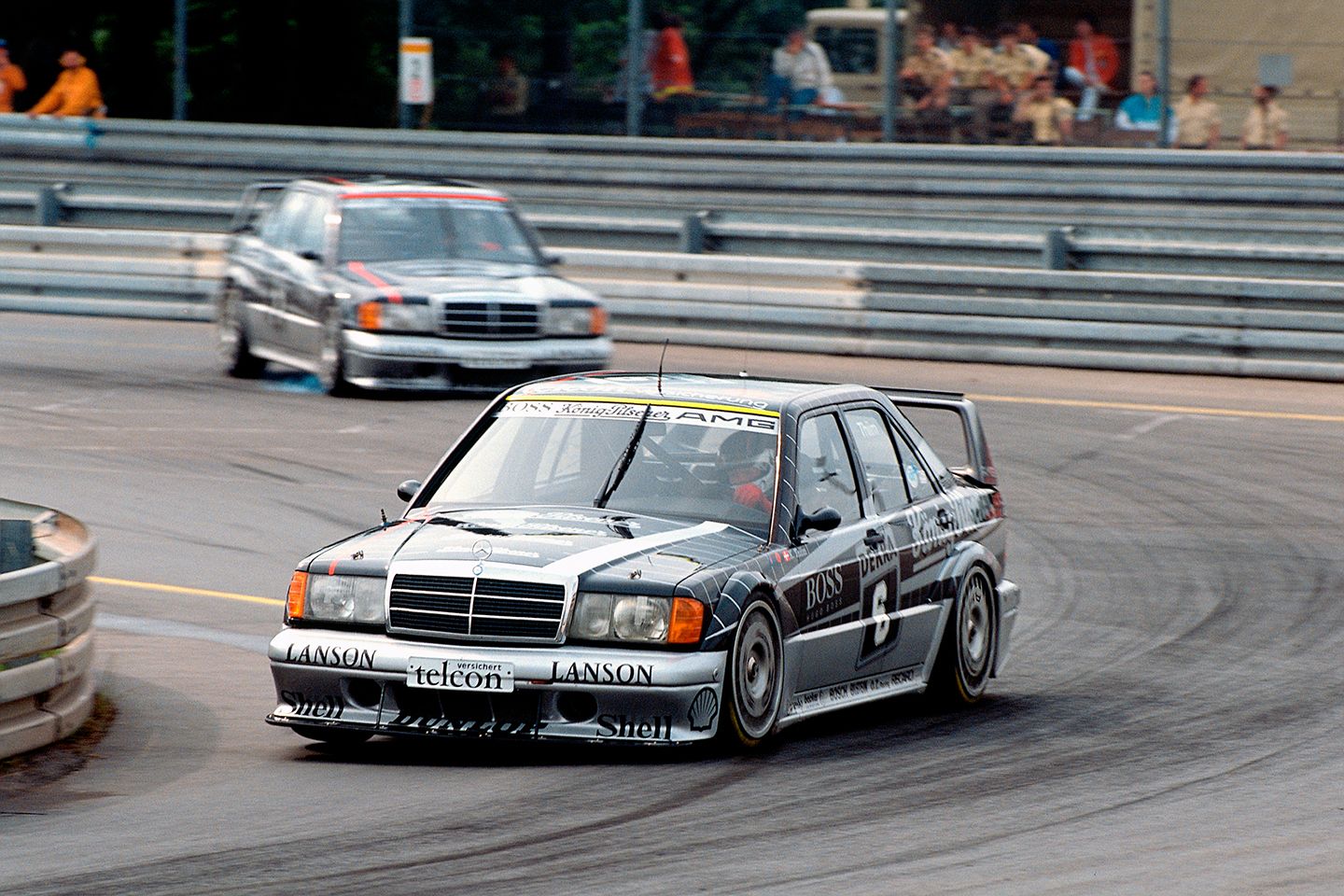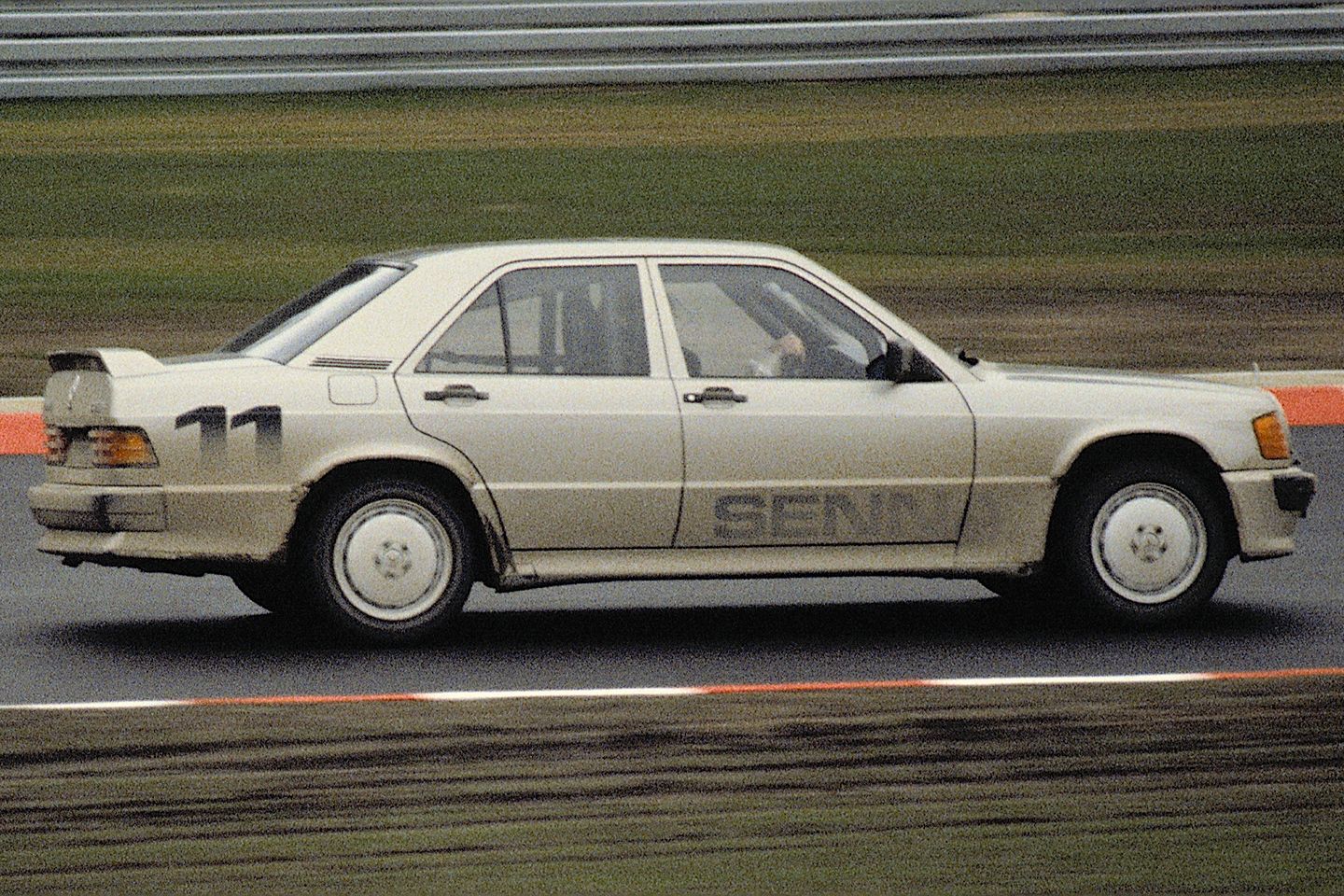 It launched as the 90hp 190 with a carb and the fuel injected 190E with 122hp, both using the 2.0-litre M102 four-cylinder from the W123. After that came a 72hp (!) diesel, the 160hp straight six 2.6 to take on the 325i and, for 1990, a 1.8-litre fuel injected engine to take the place of the 2.0-litre carb'd 190.
But it's the four-cylinder, 16-valve cars that really cemented the 190's place as a Benz hero. To folk like us, at least. You'll probably know the story of a doomed Group B rally effort and the input of Cosworth already; if not, it's well worth swotting up on John's 2.3-16 history here. Despite no rally glory, the 185hp 190E 2.3-16 made for a superb sports saloon, and even if it's commonly accepted that the Cosworth kudos was lost for the 195hp 2.5-16 in 1988, it remained every inch the M3 rival. Then it really kicked off in the early 90s, the wild Evolution I and Evolution II versions of the 2.5-litre 190E showing just how serious Mercedes was about touring car domination. In 1992, Klaus Ludwig, Kurt Thiim and Bernd Schneider took the top three DTM places. Johnny Cecotto was the best placed M3 driver, in fourth. Point proven.
All of which – the age, the toughness, the motorsport history – makes it a lot more expensive to get into a 190 than it used to be. Because the W201 was so well built, so stylish and so revolutionary for the brand, opening the three-pointed star up to a whole new audience, Mercedes sold heaps of them. Which meant they eventually got very cheap, and since they were tough these poor old Mercs weren't always taken care of as they should have been. Throw in scrappage schemes and it takes away even more survivors. However, it says much of the W201's longevity and popularity that there are still plenty for sale on PH. From just £3,500, in fact, if you're happy with an automatic 190E. £10k is towards the top end for the 2.0-litre cars, with a couple of grand more buying what looks like a decent 2.6. As for the 2.3s and 2.5s, their reputation means big prices – if not quite M3 money. The brave might want to check out this 210,000-mile project, or there's this for the less risk averse; a 1989 2.5-16, recently restored, magazine featured and yours for £30k. Who knows where we'll be in another 40 years as far as fast cars are concerned, but a 190E like that is definitely still going to be an icon come 2062. And what a story its history will be by then…