It eats up B-roads with less natural ease but plenty of enthusiasm nonetheless. Traction is superb, to the extent that this chassis will take full power and torque in second gear on a cold, greasy surface. The agility-enhancing effects of the rear-wheel steering, which works in contrary motion to the front wheels at anything below 60mph, are also apparent, and impressively fluent. This is an easy car to place at speed and it gives you the confidence to chase the throttle and revel in that monster V8.
As a luxury, cross-country, all-season GT of surprising precision, the SL 55 works well. And there are, of course, many, many chassis and engine modes that give the car pretty staggering breadth. But as a proper 911 rival? I'm not so sure.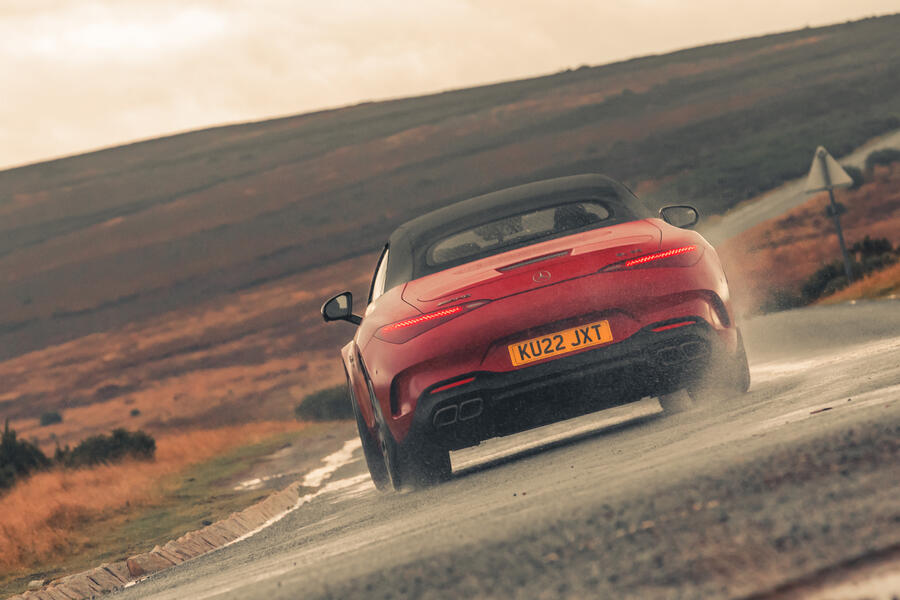 At almost 1900kg, the SL 55 is too heavy, and while clever in the way it manages its mass, the car can never escape its effects. You, the driver, are always aware of it, waiting for it to tug the nose off line through an unexpectedly tight corner, or for the body to fall a step behind what the road is doing. That neither of these things ever really happens is a mark of just how well sorted the SL 55 is, but the point is that you feel as though they might, and that's not so enjoyable.