The last race of the 2022 F1 season saw the championship head to the Gulf Region. Our resident F1 writer Nick van der Meulen outlines the race in his report titled F1 Review Abu Dhabi 2022.
The Abu Dhabi Grand Prix has not been known for providing scintillating F1 racing over the years. The last race of the 2021 season put paid to that reputation, but for the wrong reasons. It is still a Grand Prix that is talked about a year later and will likely be talked about for years to come…
Follow Double Apex on Instagram and Facebook where we share more car content.
---
Order from our online store and take advantage of free delivery in South Africa on orders over R349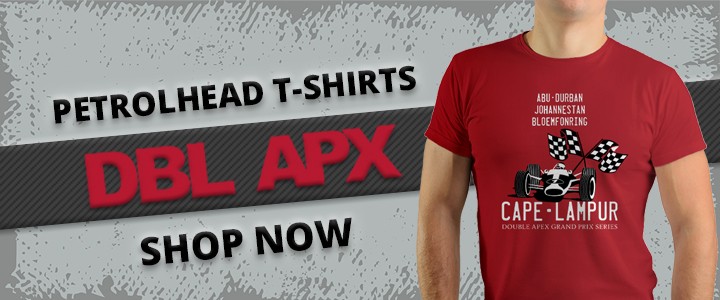 ---
Ho Hum
The race was without much excitement again, with championship victor Max Verstappen (Red Bull Racing) dominating the weekend. The Dutchman slotted into the lead from pole position and was never headed. His third consecutive victory at Abu Dhabi, it is also Verstappen's 35 th career win. Teammate Sergio Perez, vying for runner-up in the world championship standings, attempted a two-stop strategy in the race. It did not work for the Mexican and he fell 1,3 seconds short of his goal, finishing third.
Click here to check out our dedicated Formula One section.
Second Place
The highlight of the race was Perez attempting to close down Charles Leclerc (Ferrari) for second position. The winner of this duel would be runner-up in the world championship. Leclerc, running on a one-stop strategy did just enough to fend off the Red Bull racer. Perez may rue being held up by Pierre Gasly (Alpha Tauri) and Alex Albon (Williams) on the penultimate lap.
Leclerc's teammate, Carlos Sainz, finished a solid fourth after a race-long battle with the Mercedes pilots. Mercedes spent the weekend chasing the Red Bull and Ferraris. Despite both Lewis Hamilton and George Russell's best intentions, fifth position was the best they could muster on race day.
Russell was the driver to claim it, despite a five-second penalty for an unsafe release from his pit box. Hamilton had maladies with his machine throughout the race. The Englishman lost power for a time mid-race and finally retired with hydraulics failure with three laps remaining.
Farewells
Four drivers said farewell to F1 at the season finale, namely, Sebastian Vettel, Danny Ricciardo, Mick Schumacher and Nicolas Latifi. However, it was only the former champion whose departure is by choice. It was an emotional send-off for Vettel, with drivers and fans alike showing appreciation. The German managed to score points in his final race, despite his Aston Martin's tyres fading in the closing stages. He chased Ricciardo's McLaren to the chequered flag in the dice for ninth position.
Click here to read ten facts about Sebastian Vettel that you may not already now.
Schumacher had a more challenging race, although he outshone his Haas teammate Kevin Magnussen. The German tangled with Latifi in the race, braking late and tagging the Williams sending them both into a spin. It resulted in Latifi's retirement from the race.
Commanding Performance
Verstappen (454 points) 2022 F1 world driver's champion. Leclerc (308 points) snatched runner-up in the standings from Perez (305 points). Russell (275 points) finished a comfortable fourth in the standings, with Sainz (246 points) beating Hamilton (240 points) to fifth.
Red Bull Racing (759 points) has won the constructors' championship. Ferrari (554 points) kept Mercedes (515 points) at bay for runner-up in the standings. Alpine (173 points) finished fourth in the championship ahead of McLaren (159 points). Alfa Romeo and Aston Martin both finished on 55 points, but the Italo-Swiss squad gets sixth position. This is as a result of them managing a higher race finish (Bottas's fifth place at Imola).
A Long Slog
This ends the longest season in F1 history, 22 Grands Prix over a period of 246 days. There was much controversy involving the season protagonists, but that is another article for another day. There will be some changes to which fans must adjust in 2023. Fernando Alonso switches from Alpine to Aston Martin, while Pierre Gasly fills in for the departing Spaniard.
Formula E champion Nyck de Vries comes to Alpha Tauri, replacing Gasly. Oscar Piastri made a much-publicised move to McLaren at the expense of Alpine. Nico Hulkenberg makes a return to the F1 grid at the expense of Schumacher. It is expected that Williams will sign Logan Sargeant to replace Latifi for next season.
The 2023 season will consist of a record 24 Grands Prix, beginning at Bahrain in March 2023. Fans
will be waiting for news snippets and sneak peeks until then.