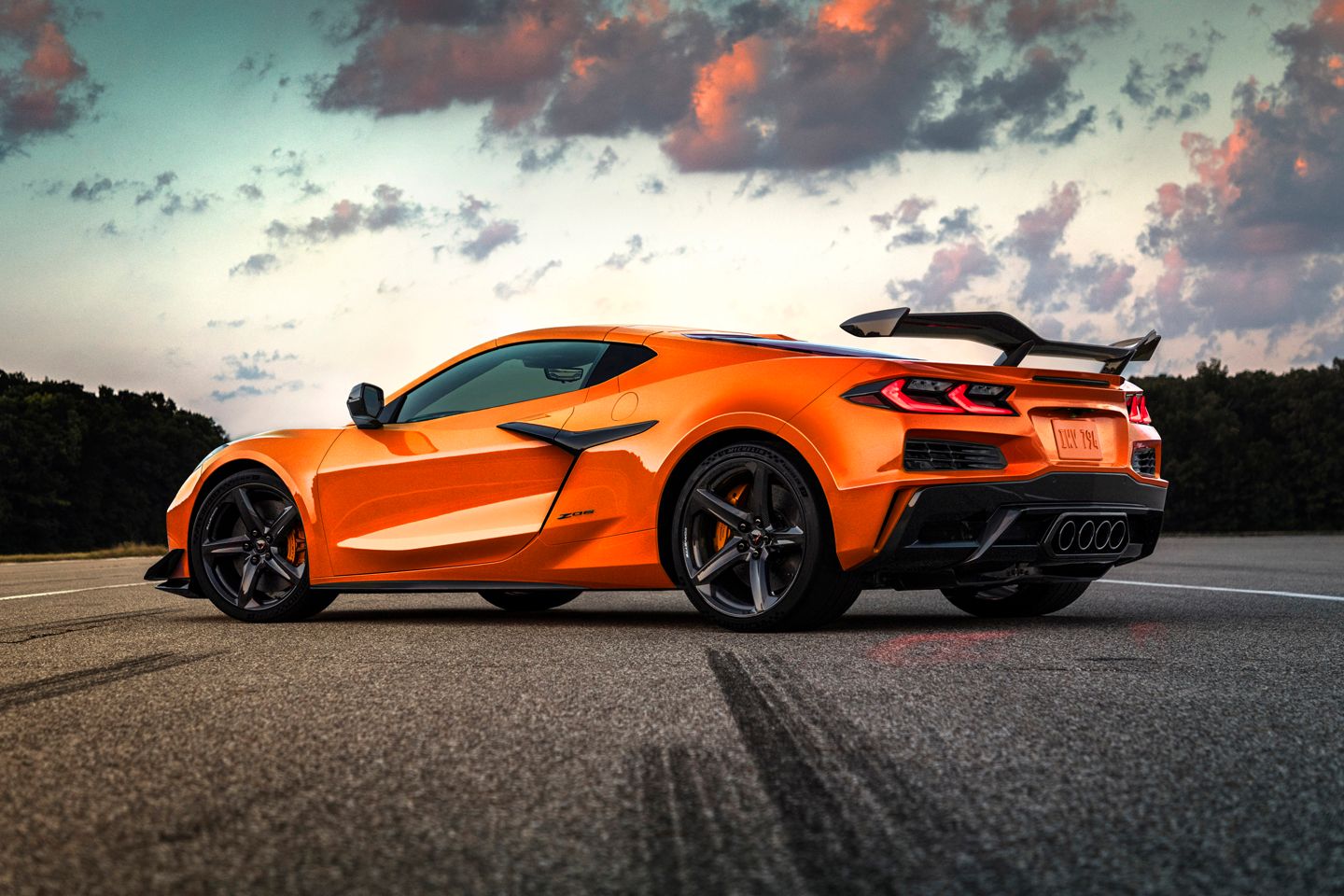 Let's start with the obvious problem with this review of an explicitly track-focussed almost supercar – I only drove it on road. Nor were these the sort of fast, flowing, quiet roads you would select if given free choice for a first turn in such a savage piece of performance machinery. No Alpine pass, no Scottish A-road, but rather a tight, trafficked and frequently bumpy corner of Michigan. Beyond snatched doses of full acceleration, and the chance to push in some tighter turns, I emerged from my drive knowing that I had only experienced a small percentage of what the new Z06 is capable of. 
Yet this was less frustrating than it probably should have been. Firstly, because it was enough to confirm that the Z06 is indeed epic, with its new engine likely to find itself on a future list of greatest-ever V8s. But also because it proved that the Z06 is one of those mega-fast cars which feels happy when being driven at only a scant percentage of its towering limits. (Despite the pretty press pictures you see here the car I drove was also the convertible version, with the power folding hardtop that brings a 45kg weight penalty compared to the standard targa-roofed Coupe.)
The big news is definitely the V8 and its sonorous enthusiasm for revs. The C7 generation Z06 was powered by a supercharged version of GM's long-serving pushrod V8, and despite the switch to a rear-mounted powerplant it seems entirely possible that Chevrolet could have gone the same way for the C8. Instead, it chose to make life difficult with the development of an all-new naturally aspirated V8. Called the LT6, this displaces 5.5 litres, has 32 valves driven by a pair of overhead camshafts in each cylinder head, plus a flat-plane crankshaft. With 670hp, delivered at a stratospheric 8,400rpm, it is also the most powerful non-turbocharged V8 fitted to a road car.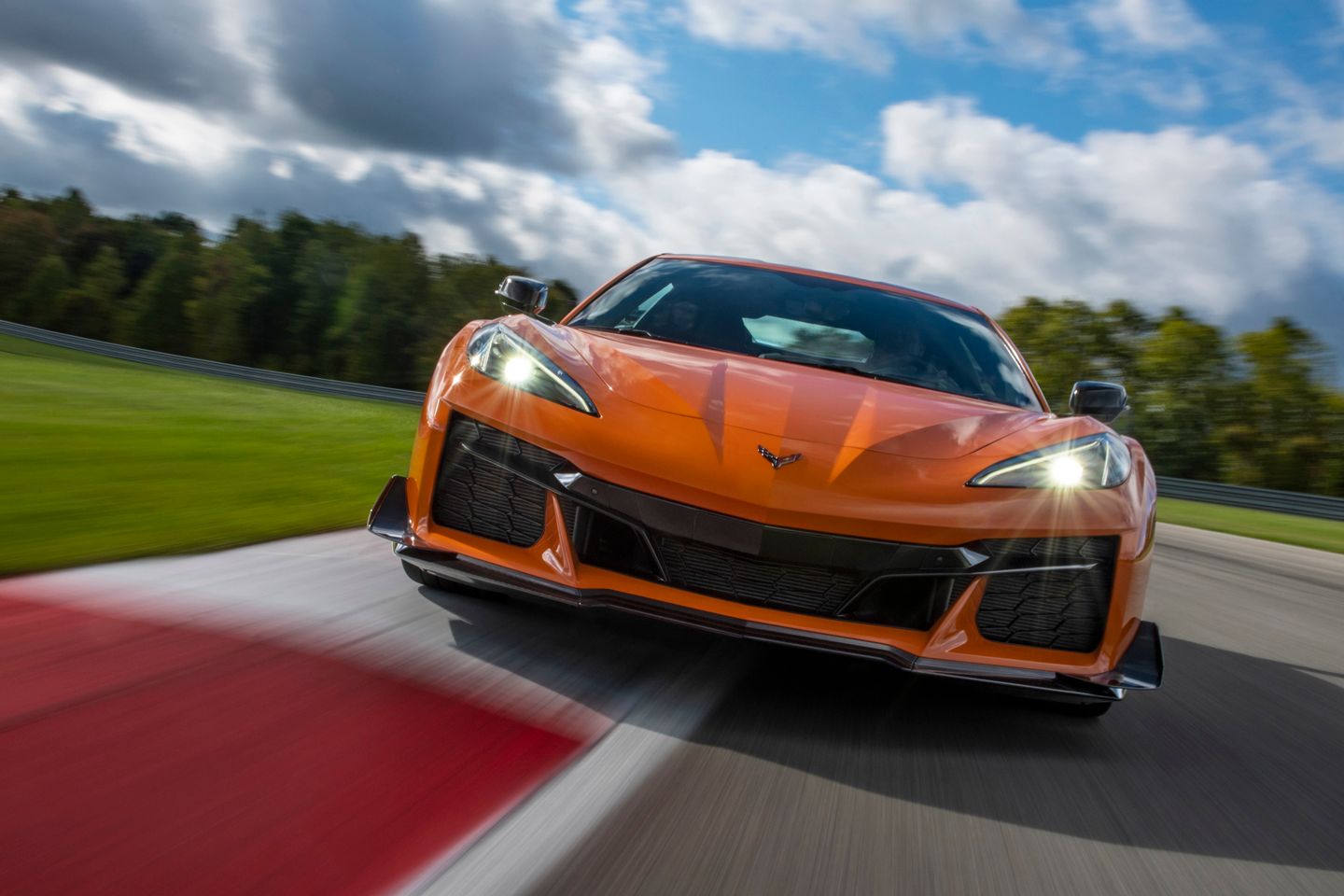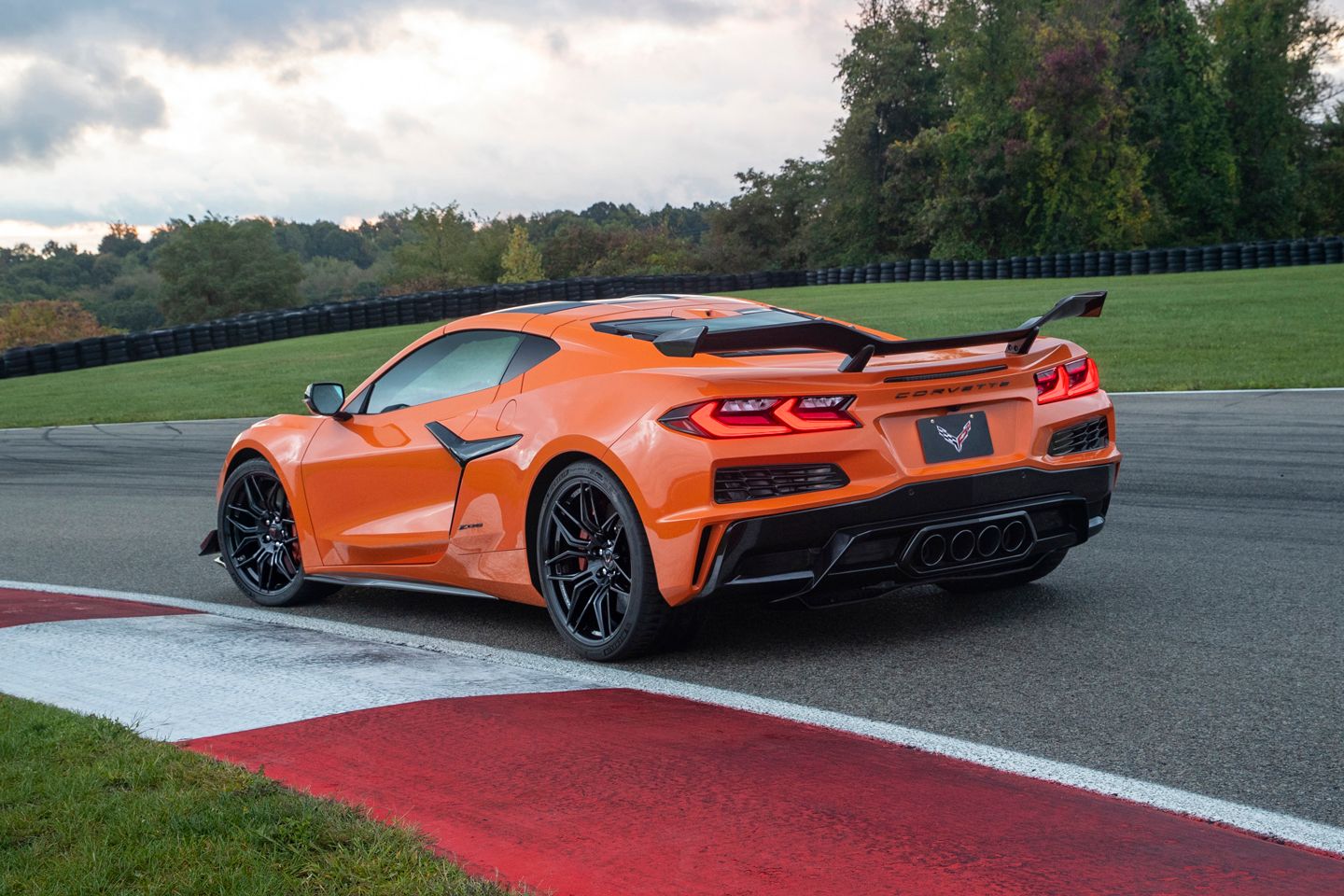 The reality is as good as those numbers make it sound, although it does come with a radical new soundtrack. With the exception of the C4 generation ZR1, which got a Lotus-designed quad-cam V8, every eight-cylinder Corvette has shared a variation on the same small-block soundtrack – a burbling idle with turns snarly with revs, but which is curtailed by a modest redline before it gets the chance to turn savage. The new Z06 is completely different, with an angry motorsport-like idle and a zinging exhaust note that gets angrier as revs climb. It's not an exact match for any recent Ferrari – not as fruity as a 430 or quite as hard-edged as a 458. But it's definitely coming from a similar place.
Low-down torque is mostly notable for its absence. The engine pulls cleanly and without complaint at pootling speeds, but with little enthusiasm until the digital rev counter has got past 4,000rpm. But from then on it gets progressively more special, with the best efforts (and sounds) reserved for the point right before the limiter calls time at 8,500rpm. Fully wrung out Chevrolet claims a 2.9-second 0-60mph time – with two U.S. magazines having already taken a third of a second off that – plus a 195mph top speed.
The Z06's chassis has been turned up to match the rise in power. Spring rates are 30 per cent stiffer than even the track-pack Z51 base Corvette, while suspension bushings are firmer and the adaptive dampers recalibrated. The Z06's tyres are bigger – indeed close to being biggest – with 275/30R21s up front and road-roller 345/25 R21s at the back. Just keeping the rubber covered by bodywork has required a 92mm extension in width.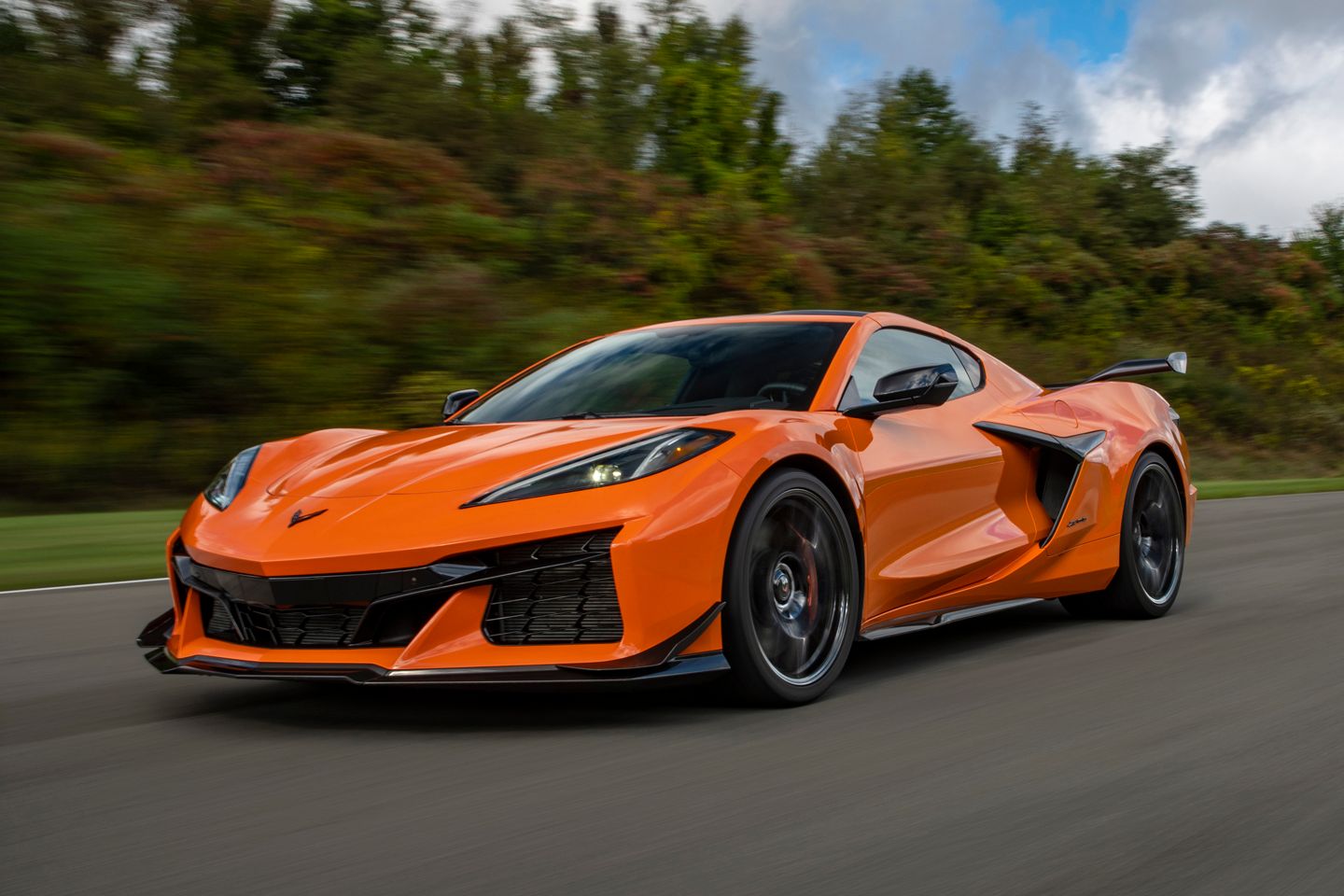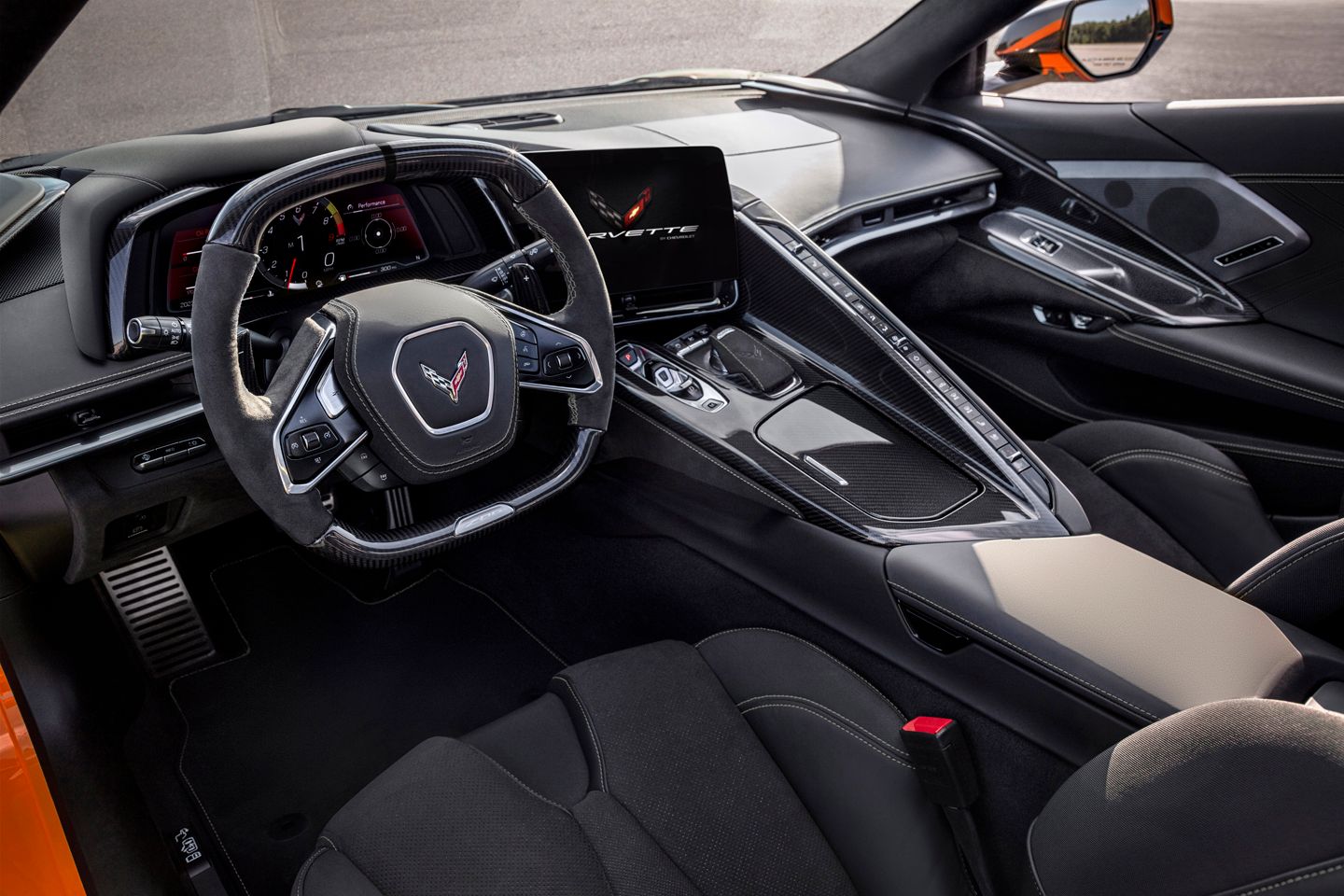 Choosing a Z06 is just where the decisions begin. Buyers can opt to add an optional aero pack for $8,495, which brings the raised backward boomerang profile rear wing and increases peak downforce to a claimed 330kg, more than twice that of the unadorned Z06. Doing that unlocks the further option of spending another $8,995 Z07 upgrade pack, which adds another 10 per cent to the spring rate, turns the dampers up another notch and includes both carbon ceramic brakes and the option of Michelin Pilot Sport Cup 2R track tyres in place of the standard Pilot Sport 4S. A final choice is optional carbon fibre wheels, these adding $9,995 to the price but saving about 5kg per corner.
I drove a convertible with both the aero and Z07 packs, but without carbon wheels and still sitting on the more road-friendly 4S tyres. First impressions were similar to those of the standard C8. Even with the roof in place the Z06's cabin is noticeably bigger than that of a junior supercar, with more driving position adjustment and headroom. The seating position is also higher, though – even with the seat moved to its lowest position. The Z06 also keeps the regular C8's strangely squared-off steering wheel, one of my personal performance car bêtes noire, with Chevrolet having also made the bizarre decision to finish the top and bottom of the rim in slippery carbonfibre. Fortunately, there isn't much need to take your hands off the more touch-friendly Alcantara around the three and nine o' clock positions.
That's because steering is, as in the regular C8, high geared and direct. Only minimal effort is required to turn into shallow corners, and although there isn't much room for chatty feedback around the straight-ahead, the rack feels completely dialled-in to bigger cornering loads, although with some wriggling kickback over bumps. This added to the sense of excitement without noticeably diminishing directional accuracy.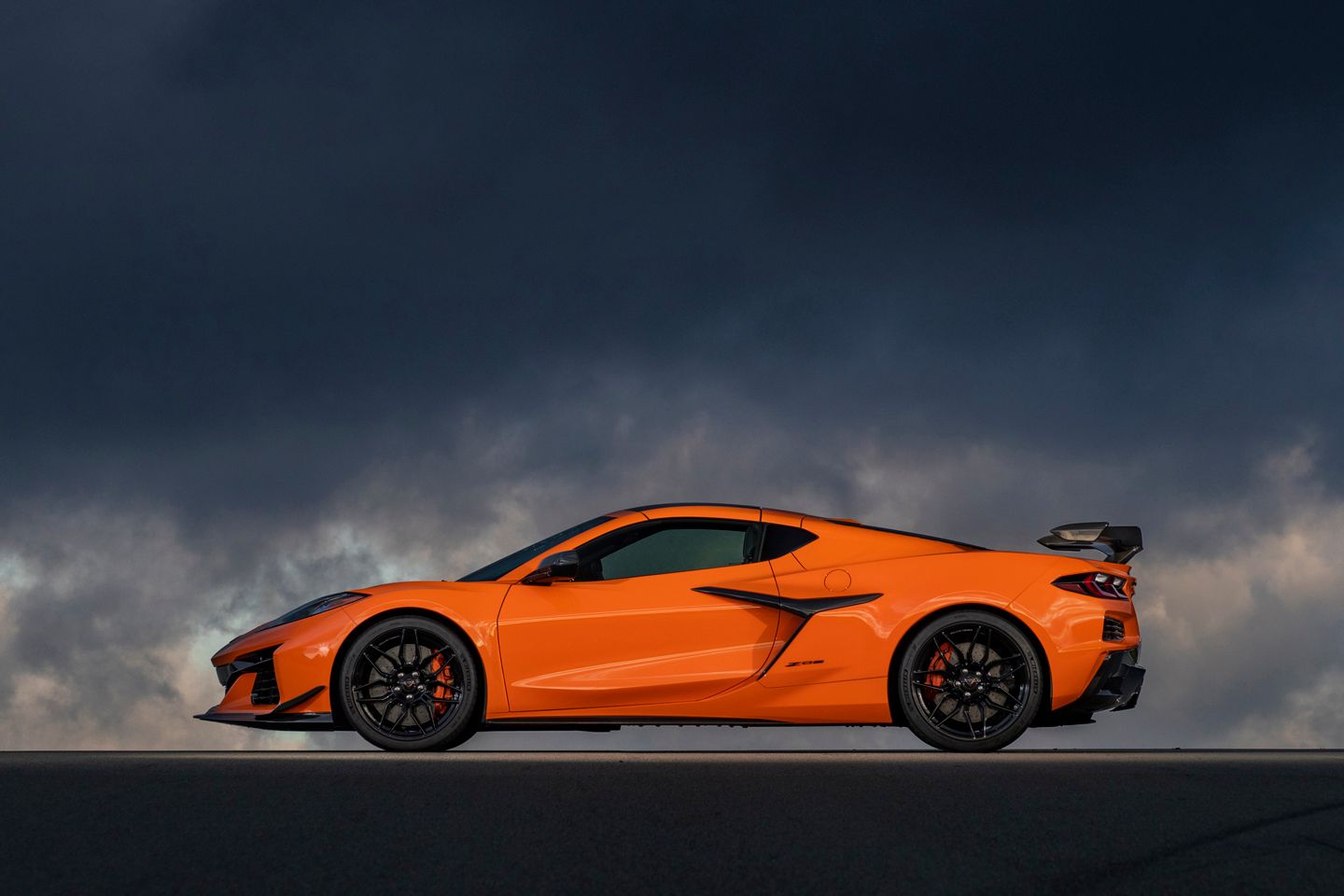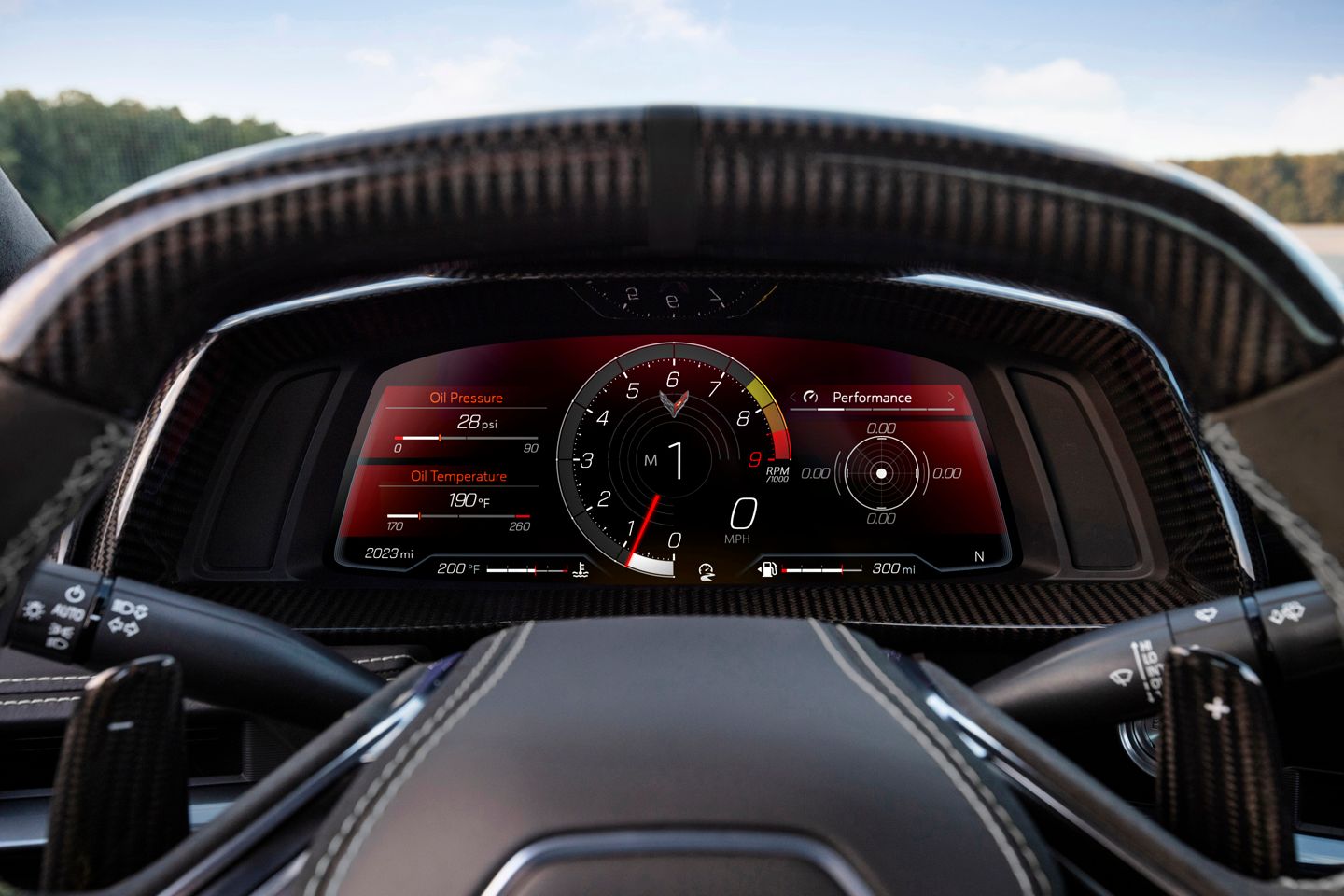 The Z06 uses the same eight-speed twin clutch transmission as the regular C8, but with beefed-up internals and a shorter final drive ratio. The broadness of the engine's muscle means plentiful opportunities to play with the carbon fibre shift paddles behind the steering wheel, something the quick-fire gearbox positively encourages under manual control. But on twisty roads I soon found it wasn't actually necessary to make multiple changes: third gear is good from 30mph to past 80mph.
Of the switchable dynamic modes, Sport seemed the best for enthusiastic progress. In the gentles Tour setting the throttle and gearchange logic felt a bit too laid back, while the full-on Track seemed to fill the dampers with concrete: one set of undulations taken at a decent lick with the suspension Hulk'd gave a sudden appreciation of what porpoising feels like in an F1 car.  A do-it-yourself 'My Mode' setting allows drivers to pick and choose different settings for steering, suspension, engine map, exhaust note and – as in the CT5-V Blackwing – also 'brake feel', this being the weight given to the pedal. 
Grip is massive. I didn't get the chance to push hard enough to take the Z06 beyond its towering limits, but nor did I want to. While the last front-engined 'Vette boasted a pretty much spot-on 50:50 weight distribution, the mid-engined Z06 has just over 60 percent resting over the rear axle when static. Even under road loadings this felt obvious, helping the car to turn and get power down, but also in the way that small throttle lifts would suddenly tighten the cornering line. As in the CT5-V Blackwing there are a variety of different traction control modes to maximise track performance, but I didn't play with any of these: my abiding sense after a reasonably hard blast is that, if the Z06 does let go, it will do so suddenly.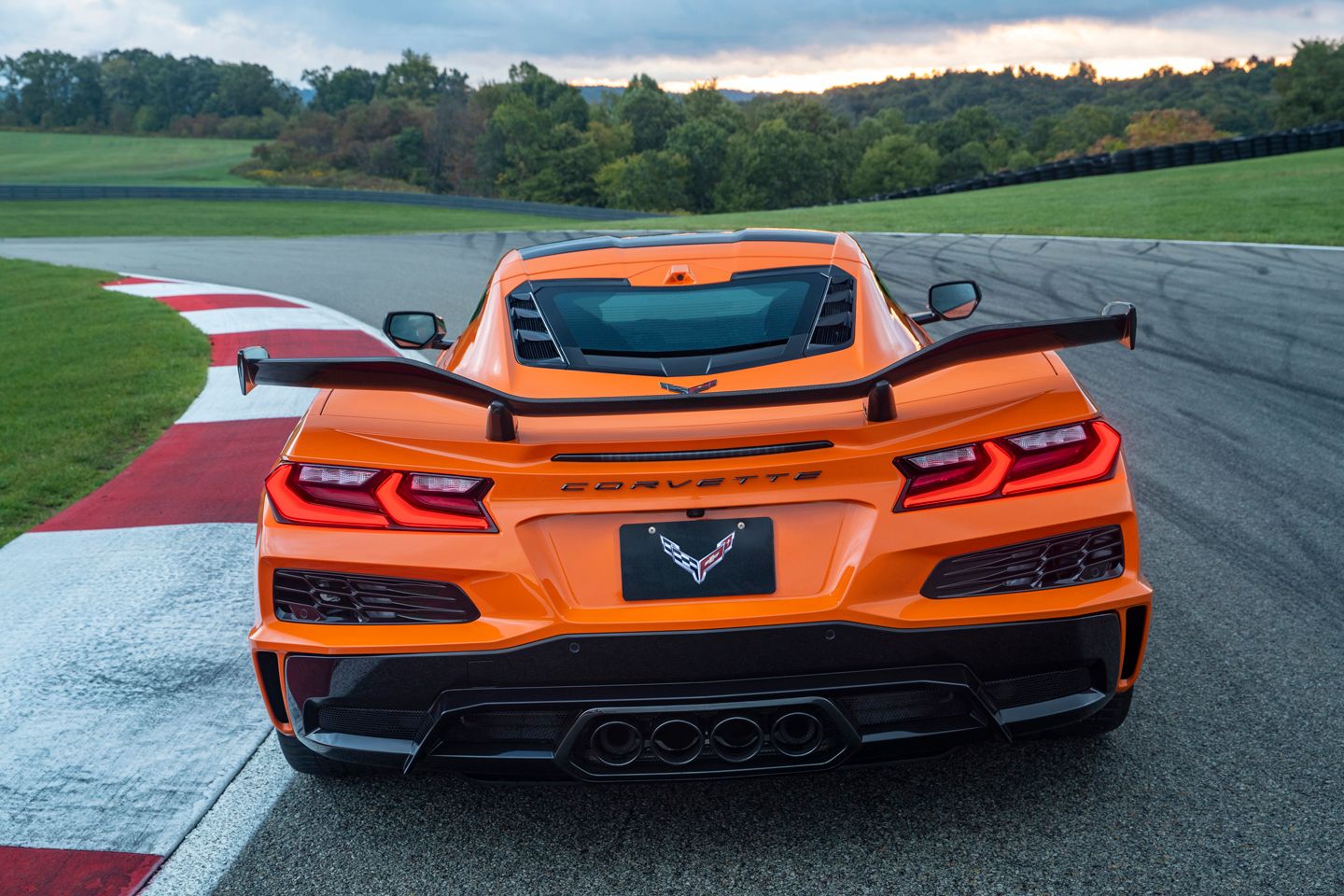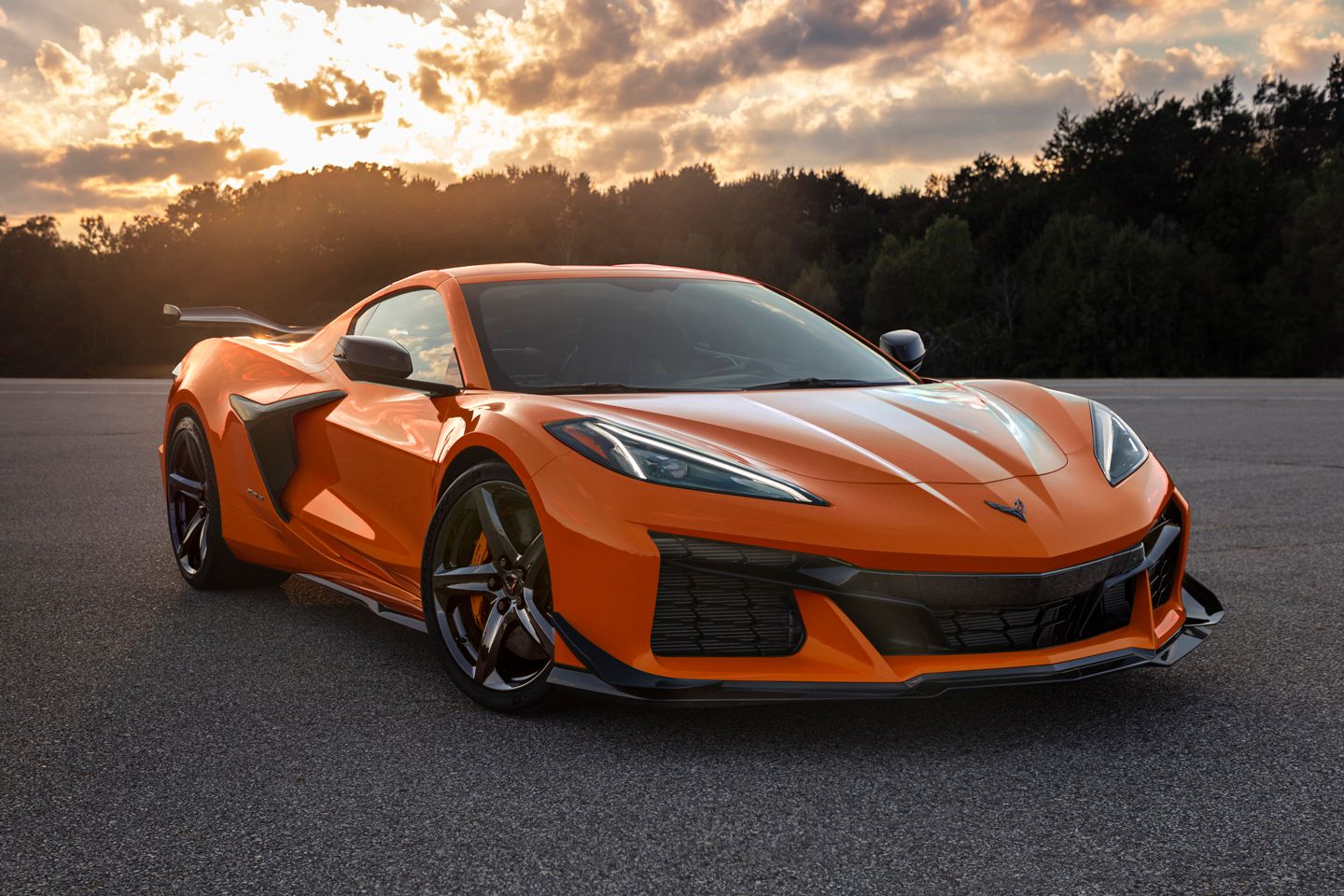 Yet while many circuit-biased road cars are heavily compromised by their mission to dominate tracks, the Z06 feels impressively well suited to the real world. The cabin is well-trimmed and comfortable, and although practicality isn't on a par with a 911, let alone a Cayman, there is a dinky little luggage compartment behind the engine. I also liked the ability to turn the exhaust noise down into what is basically a stealth mode, one that would allow a Z06 owner to sneak out early without waking the whole neighbourhood. This is a track special that would get you to a circuit feeling fresh and ready for action.
Buyers will also get there feeling pretty smug if they've been able to snag their Z06s for anything close to Chevrolet's official MSRP pricing. The most basic version starts at just $109,295 pre-tax in the 'States, while even ladling a full set of dynamic options onto the fully loaded 3LZ Convertible version will still be just under $150,000. For reference, an unoptioned base Porsche 911 is currently $107,500, and a GT3 RS will start at $224,000 in the U.S.
Granted, Chevrolet dealers are likely to try and extract substantial 'market adjustment' markups on early Z06s. But when supply and demand have settled down this really does look like supercar performance for sportscar money. That's in the 'States. In Britain, buyers are still waiting for the first right-hand drive examples of the standard C8 to arrive, and sadly there seems to be no prospect of the Z06 ever officially finding its way to Europe.
Specification | Chevrolet Corvette Z06
Engine: 5463cc V8
Transmission: Eight-speed twin-clutch, rear-wheel drive
Power (hp): 670 @ 8400rpm
Torque (lb ft): 460 @ 6300rpm
0-60mph: 2.9-sec
Top speed: 195mph 
Weight: 1561kg 
CO2: NA
Price: From $109,295 (U.S.)