Is this the logical next step for the flagship Mercedes sedan? And is it worth the extra outlay?
The idea behind the Maybach S 580 is to take Mercedes' own moniker of 'The Best Car in the World' for the S-Class to its logical next level. And when you look at what it offers, it seems to do just that. It's more spacious, has more tech and uses a sophisticated V8 petrol engine, but is that enough to justify a 60 percent price markup, or is there more to it than just that?
2022 Mercedes Maybach S 580: exterior upgrades
While the previous revival of the Maybach brand in the year 2000 birthed a bespoke super-luxury model with its own unique look inside and out (and admittedly the underpinnings of the S-Class of the time), in the two most recent generations, Mercedes has chosen to simply stretch the S-Class itself. As such, there's not too much visual differentiation from the standard model, but that's not necessarily a bad thing; it's a good-looking car.
Unique 19-inch alloy wheel design; 20-inch option available at dealer level.
What's different? It's a full 180mm longer than even the long-wheelbase S-Class that's sold in India, stretching the tape at a mammoth 5,469mm, and that is plain to see in profile. There's a small quarter glass behind the lengthened rear door, the B-pillars are finished in brushed chrome, and the added length is complemented by subtle, monobloc-design 19-inch alloy wheels. These are no bigger than on the standard S, and should a customer want, they can spec larger ones at the dealership, but as we saw with the locally assembled S 350d, moving down a size to 19 inches significantly improves the ride quality.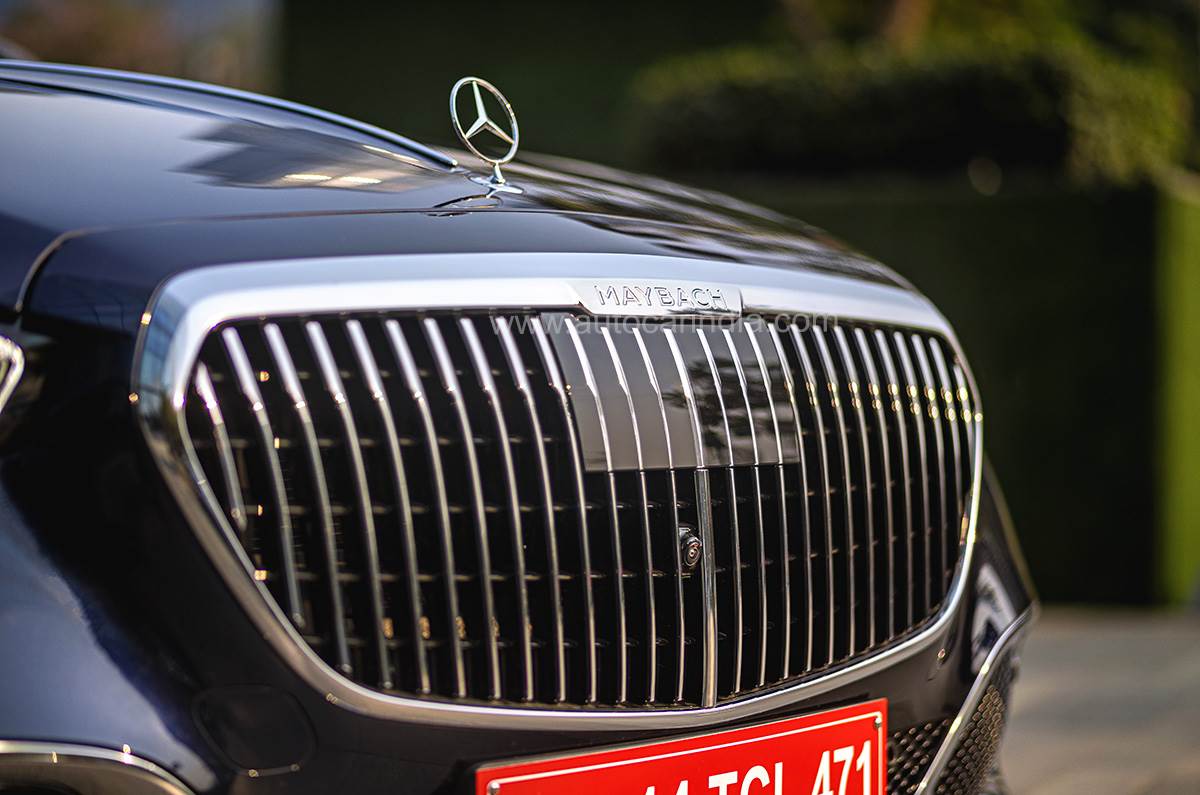 Maybach signature grille with fine chrome stripes adds a lot of bling.
You'll still find the three-pointed star emblem on the bonnet and boot, but the Maybach logo features prominently on the C-pillar. You also get a bold chrome grille with thin vertical slats and the Maybach name stamped into it, and large chrome surrounds for the air intakes in the front bumper. At the rear, there's greater chrome treatment around the exhausts, and of course, Maybach and S 580 badging. All in all, a sufficient dose of bling without going over the top.
2022 Mercedes Maybach S 580: interior space and comfort
This is truly where it feels like your money has been well spent; an upgrade from business to first class. Yes, the Maybach S-Class has the Chauffeur Package that lets you move and fold the front passenger seat forward for maximum legroom, but you seldom feel like you need it. Even six-footers could stretch out, cross their legs and recline their seat without compromising space for, presumably, the security professional sitting in front of them.
180mm longer wheelbase gives more than enough room to stretch out.
As before, the seats recline an impressive 43.5 degrees, but this time, leaning all the way back moves you behind the rear windows and into the added privacy afforded by the new quarter glass. Should you want more privacy still, there are, of course, powered window blinds, including a small one for the new tiny triangular window.
The S 580 is technically a 5-seater with a 'bench' rear seat (you can option the bifurcated 'first class' cabin in the imported S 680), but really, the middle seat is a concession to use in a pinch. The two independently adjustable outer seats are really where it's at. These seats remain arguably the best in the business, wrapped in soft, quilted Nappa leather as they are, with generous cushioning, and of course, the soft pillow strapped to the headrest now embroidered with the Maybach logo.
Rear seats recline by 43.5 degrees and get fold-out massaging ottomans.
Apart from the recline, the seat base slides forward, you can set how tightly the side bolsters embrace you, and there are fold-out ottomans on both rear seats this time, again thanks to all that extra legroom. That you get seat heating, cooling and massage functions goes without saying in this sort of car, but now you can also have your calves massaged via the aforementioned ottomans. Even the carpets here are thicker, for you to better sink your toes into.
Just the mere act of entering the back seat has been enhanced with the inclusion of motorised rear doors that can be opened and shut with a single switch, or by the chauffeur from the front touchscreen. This is taken an arguably gimmicky step further with the 'Royal Wave', which lets you close the door hands-free with just a gesture; you can also operate the rear sunroof this way. Once the door closes, a motorised arm even extends forward from behind your shoulder to present you with the seatbelt!
Ambient lighting includes 'animated' dynamic light strips.
The cabin can also be bathed in a rainbow's worth of colourful light thanks to the most comprehensive ambient lighting package we've seen in a car, which includes animated 'dynamic' light strips that wrap around the cabin. You can choose, via the settings, to keep it discreet, or go completely extroverted with multiple colours and maximum brightness; modern luxury can be OTT too, after all.
13 airbags including front-facing bagsfor rear passengers, and seat belt bags.
Quality levels, of course, are of an incredibly high standard, with not a bad piece of trim in sight. The smattering of backlit, brushed metal Burmester speakers all around the interior, including the roof, add to the sense of techno-luxury, the steering wheel rim is lined in wood, and all the leather is quilted and soft to touch. And while this is subjective, it must be said we're not fans of the chequered pattern Mercedes has chosen for the trim in the cabin – a rich wood veneer would have felt more befitting of a Maybach.
Metallic chequerboard pattern cool, but rich wood veneer would work better.
Which highlights a bigger issue – there is almost no scope for customisation on this locally assembled Maybach, which is not what you'd expect at this price. You can choose from four paint shades (with no dual-tone option; another big draw) and three interior upholstery shades, but that's it. If you want customisation, you'll have to stump up far more cash for the imported, V12-powered S 680.
Boot is long but shallow thanks to compartment that houses spare tyre.
2022 Mercedes Maybach S 580: features and tech
In the Maybach, a lot of the tech exists to further the luxury experience, so much of it has been talked about already. But still, there's more. Even though this is car is arguably more for those in the back seat rather than the driver's seat, they have put in some features to pamper your chauffeur as well. The front seats too are heated, cooled and massaging this time, and even get active seat bolsters – like in an AMG – that move to support your sides while cornering.
Front seats get cooling, massage and active bolster function on both sides.
As with the S-Class, there's sensor-based ADAS tech and Level 2 autonomous driving that includes adaptive cruise control, active lane keeping assist, cross traffic warning and auto emergency braking, but this time adds evasive steering assist, which will steer the car away from a crash in a particularly dangerous scenario. While helpful, all these work with varying degrees of success in the unpredictable and poorly demarcated Indian driving environment, so it's good that you can turn them off if you want. Except auto emergency braking, which always turns back on each time you start the car, and slams the brakes violently if something strays into your path, which could potentially lead to being rear ended. On the safety front though, the Maybach S-Class has as many as 13 airbags, including front-facing bags for rear-seat passengers, and even seat-belt airbags to protect your thorax.
Cockpit not too far removed from standard S-class; mixes classic luxury with modern tech.
The newest version of the MBUX infotainment software (codename: NTG7) debuted on the new S-Class and is tailored around a portrait-oriented 12.8-inch central touchscreen. It remains a slick unit with quick responses and intuitive design, but it has swallowed up too many basic functions that should have been physical buttons. Everything, from the AC controls to lifting the car for big speed breakers, is only accessible via the screen. But our biggest grouse are the touch-sensitive steering controls, which don't respond easily and are irritating to use.  
Crisp digital dials easy to read even in bright sunlight despite lack of hood.
The digital dials are really sharp and easy to read even in the brightest sunlight, despite having no hooded covering. There's even a new 'Maybach' display theme for the screens that uses a luxurious rose gold and off-white colour scheme. Speaking of screens, there are three of them in the rear, and though it's tempting to lean back and fiddle with the small Samsung tablet controller in the centre armrest, it's much nicer to use the bigger touchscreens on the back of the front seatbacks, which are just as nice as the one up front. Trouble is, in an ironic side effect of the stretched rear cabin, they're almost always just out of your reach!
30-speaker, 1,750W Burmester 4D hi-fi has active noise-cancelling tech.
We can't end without a mention of the exquisite, 30-speaker, 1,750W Burmester 4D hi-fi sound system, which returns from the S-Class Launch Edition. The fourth dimension comes via 'exciters' inside the seats that pulse to the beat of the music, adding a physical thump. But in the Maybach, there's another function – active noise cancelling. Much like a pair of high-end headphones, the sound system reduces unwanted noise frequencies by emitting counter frequencies in the cabin.
2022 Mercedes Maybach S 580: engine, refinement and comfort
We're not sure how much of the eerie silence in the cabin is down to the noise-cancelling speakers, but Merc's efforts towards keeping noise out sure have been effective. Apart from the fact that the S-Class is generally built like a vault, there are double-glazed windows all around and added foam in the rear wheel arches. It helps that the 4.0-litre, twin-turbo V8 has been hushed too, to the point that only an aggressive overtaking manoeuvre elicits so much as a murmur from the engine bay. The 9-speed auto, too, has had its shifts smoothened out so much that you forget it's even there.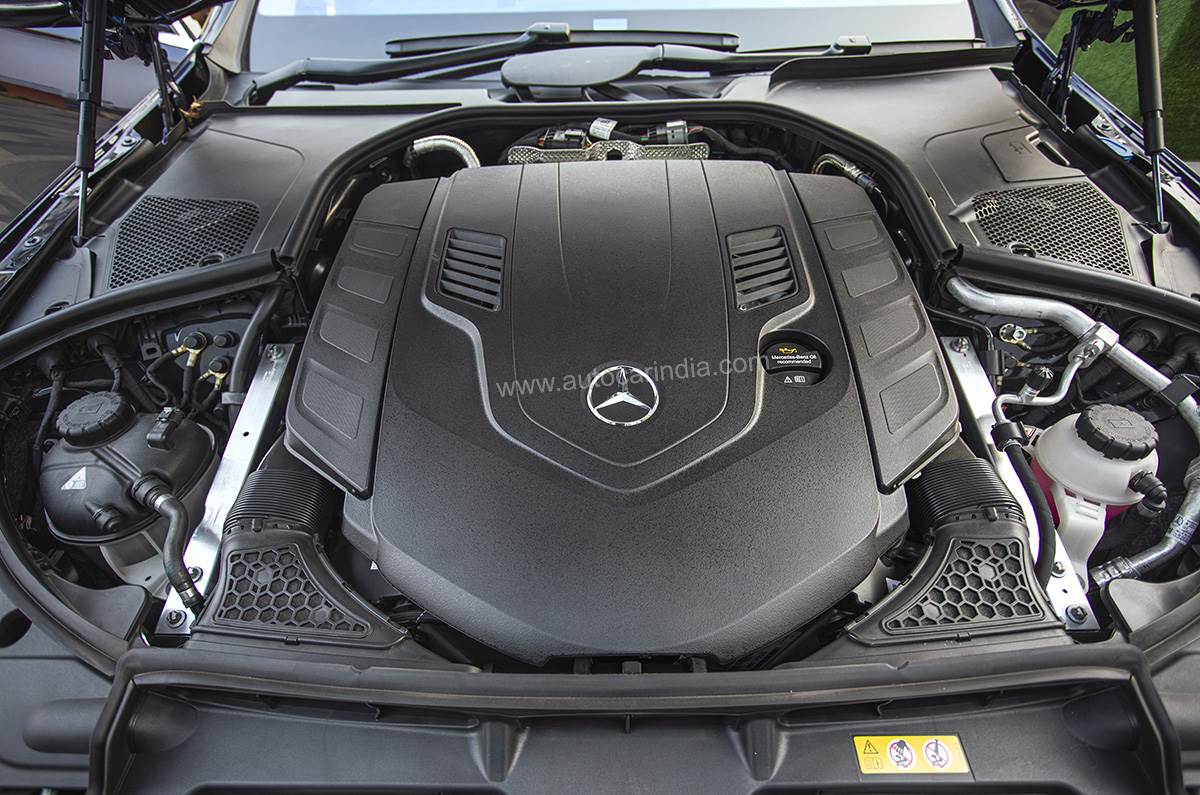 Silent 503hp 4.0-litre V8 gets this 2.3-tonne limo to 100kph in 5.0sec.
There is performance should you need it though. Combined with the all-wheel-drive system, the 503hp, 700Nm V8 will whisk this 2.3-tonne limo from 0-100kph in 5.0 seconds flat, with very little drama inside the cabin. Though, realistically, the most spirited driving this car will see is getting you to a meeting quicker, probably involving a lot of overtaking, which it does effortlessly too.
Drive modes play a part here, and there are three to choose from – Sport, Comfort and Maybach. Think of 'Maybach' as 'Comfort Plus' because not only does it soften the suspension even more, it also starts off in second rather than first gear, for the smoothest possible experience.
Embossed Maybach pattern on metallic pedals a classy touch.
But sticking with the suspension, it is tremendous at ironing out bumps and ruts, and yes, the 19-inch wheels and taller tyres do make a huge difference to this end. There is a caveat though. Mercedes air suspension set-ups are historically on the softer side, but in this car – whether in Comfort or Maybach modes – it's just a bit too floaty. Switching the suspension to Sport mode does improve things but even this is rather soft.
On perfect roads, the cloud-like ride quality is superb, but introduce the smallest bump or undulation – of which our roads have many – into the mix, and you'll be caught in a slow but continuous bounce. The long wheelbase compounds matters, creating a greater delay between the reactions of the front and rear suspension, tending to rock you back and forth. Mercedes does have a solution for this called e-Active Body Control (eABC), which tracks the road ahead and adjusts the suspension to compensate for bumps and curves in real time. Globally, you can get this on the S-Class, but in India, it's reserved only for the Maybach GLS SUV, and was deemed unnecessary for sedans.
Flip up centre armrest for 'ocassional use' fifth seat.
On similar lines, the massive 3,396mm wheelbase of the Maybach S is something your chauffeur needs to be wary of going over larger speed breakers. You'll have to quickly flick through a few touchscreen menus to raise the vehicle. Even after doing this, we did manage to make light contact with a particularly heinous speed breaker in a Mumbai industrial area.
Another piece of tech curiously not on offer on the locally assembled S 580 (but is an option on the CBU S 680) is rear-wheel steering. Given this car's massive length, parking and U-turn manoeuvres are cumbersome to say the least, and this would have also been a good differentiator from the standard S-Class. Mercedes says this is because they anticipate few buyers choosing this expensive option, but we also hear that the India plant isn't quite geared up to install this tech just yet, but will be in the future.
2022 Mercedes Maybach S 580: price, rivals and verdict
Curiously, the Maybach S-Class has its corner of the market all to itself. Sedans from Bentley and Rolls-Royce are far more expensive, and its traditional German rivals don't offer super-luxury models. Then there's the matter of putting its price into perspective. Yes, at Rs 2.5 crore (ex-showroom), it costs 60 percent more than the regular, locally made S-Class (Rs 1.57 crore), but it's only 15 percent more than the CBU imported S-Class Launch Edition (Rs 2.17 crore), which sold out almost instantly. Incidentally, the CBU Maybach S 680 (Rs 3.2 crore) is also completely sold out for 2022, and this CKD S 580 is spoken for until October this year. So, whatever you think of the price, there's no escaping the fact this car is already a huge success.
Does it achieve its brief as the next step up from the S-Class? Absolutely. The added space alone is its USP, and then there are subtler things like the improved refinement and few more pieces of tech. However, it's a shame you can't customise it more, and that you can't opt for two-tone paint, as both these would help set it apart not just from other Maybachs, but from the standard S-Class too. The bouncy ride is a contentious one, but should the majority of your use be at low speeds in city confines, you should be alright. And if you are prone to motion sickness, ask the chauffeur to switch it to Sport mode.
In short, when it comes to this locally built Maybach S 580 at least, it feels more like a range-topping S-Class than a more luxurious sub-brand, and that's no bad thing. There could have been more to set it apart from the lesser model, but then that's what the S 680 is for. At its price and positioning, this S 580 is a great upgrade for those who feel that limos, not SUVs, are still the ultimate in luxury motoring, and having spent the last few years in the back seat of the previous S-Class, want to take things one logical step further.
Location Courtesy: Club Jolie's